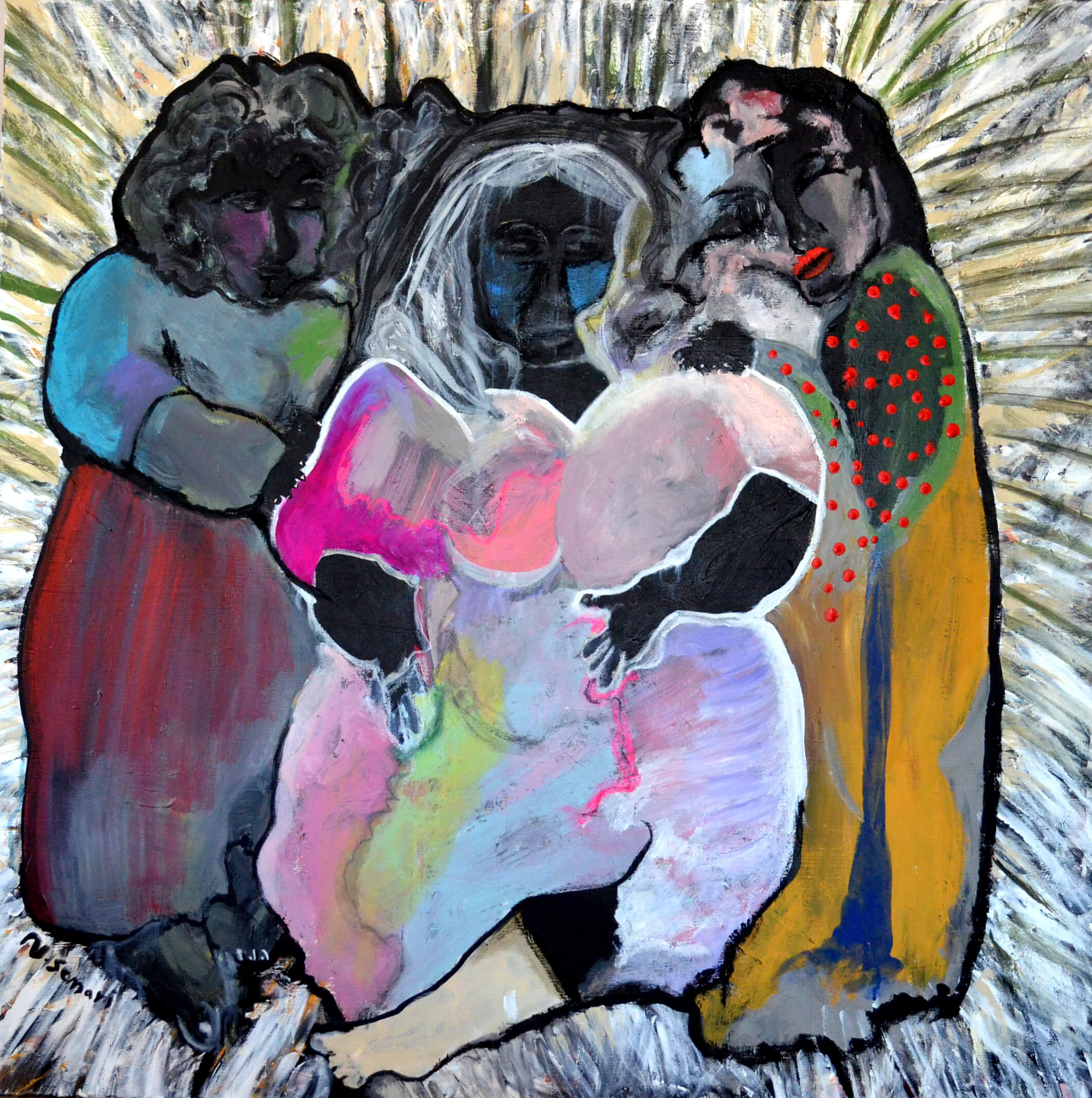 By Rewa Zeinati
Cities of longing, memory, love and war
RZ: Your first poetry collection, To Live in Autumn, won the 2013 Backwaters Prize and will be published in August 2014 by the Backwaters Press, in Omaha, Nebraska. It was selected as a winning manuscript by notable poet Lola Haskins. You've been nominated for a Pushcart Prize and your individual poems have been published widely and frequently in many distinguished journals across the US. You are on the editorial board of All Roads Will Lead You Home, a new online literary journal by VAC poetry. A mother of two, founder of PUNCH, a monthly open-mic poetry evening, and runner of poetry workshops for adults and children (in Dubai, UAE.) What drives you on?
ZHB: With both poetry and motherhood, one doesn't know what the driving force is exactly. You just go with it, almost instinctively. The love, the passion, the intuition, and the obsession are there. But one doesn't know why/how they are there to start with.
This isn't to say, of course, that all is intuitive (and immediate) in poetry and motherhood. You also learn these things, because they are things you do, not just feel. So, you get up every day, you feed, bathe, and dress your children, and you talk to them, and you play with them, and you love them and hug them, and they drive you crazy, and you are exhausted, and you need a break, and you hope you don't lose it by the end of the day. In poetry too, it's about the day-to-day work on something you love: I try to read every day, and think about writing every day, and I revise, and sometimes I obsess, and the poems can drive me crazy as well.
I have to point out though, since I've started this simile, that motherhood and poetry aren't similar in all aspects, and that they don't always co-exist. Motherhood is something you do with your kids, whereas poetry is something you do alone. Sometimes I abandon my kids for my poems, and sometimes I abandon my poems for my kids. But now I'm digressing. Have I somehow answered the question? I guess I love them (my kids and poetry), and try to be there for them every day.
RZ: Your book To Live in Autumn is set in, and is about, Beirut. You being a Tripoli-native and childhood resident of Tripoli (Lebanon), why Beirut?
ZHB: When I left Beirut in 2006 after having lived there for six years, the poems just kept coming, out of nostalgia, I think. It was like I was summoning the city back to me in writing. After some time, I realized Beirut was a recurrent theme in my poetry, and I took the decision to write the book with the working title Re-membering Beirut. The process took years, during which I also wrote about other things/places (Tripoli among them), but those poems didn't go into the book. I want to note that some poems in To Live in Autumn are a mixture of Beirut and Tripoli. "Nocturne," for example, is one of them. "The Old Building" is heavily based on the building I lived in as a child in Tripoli, and the last poem of the book, "Spring," brings Tripoli into the picture as well.
But why did Beirut keep coming to me in the first place? Probably because I spent my university years there, and those were formative and exciting years for me. Beirut is an inspiring city, and it was new and unfamiliar to me, the eighteen-year-old from Tripoli. It gave me poetry readings, theater, literature (that's what I was studying), dance, streets, new friends, chaos, and of course, political unrest. So naturally, when I left the city that I had grown to love so much, I felt that longing for it, which I think triggered the writing. The poems in the book eventually moved beyond mere longing and nostalgia of course.
RZ: What do you think makes a good poem?
ZHB: I don't think there's an objective list of criteria for a good poem. I'll tell you what would make me love a poem though: its ability to make the familiar unfamiliar (and vice-versa), its ability to move me (immediately!), and this urge I get of wanting to read it over and over again.
RZ: Do you think poetry and fiction are at all related?
ZHB: Aren't all art forms somehow related? Good fiction and good poetry should both have the ability to amaze the reader. I don't read much fiction, but when I do, I've noticed that the books I like are the ones with good details, surprising images, and condensed language, all of which are also necessary in poetry. On the other hand, poetry too, is fictional, in its reinvention of the world around us.
RZ: Can good writing be taught?
ZHB: I think you are either born a writer (among other things), or you aren't. If you do have that innate ability (and better yet, an irresistible urge) to write, then you can definitely learn to write better. The best way to do that is by reading, reading, and reading good writing. And if you're lucky enough to get feedback from fellow writers you trust, then that helps as well.
6- You've recently begun exploring writing in your native tongue, Arabic. How is that different from writing in English, apart from the obvious, of course.
I've only just started to flirt with Arabic. I haven't been writing in Arabic long enough for me to be able to formulate similarities and differences. For now, the creative process feels the same to me in both languages.
RZ: What is your writing process? Are you a morning writer? An after-midnight poet?
ZHB: When I became a mother, I also became a write-whenever-you-can poet. So, when my kids are at school, I do most of my reading and writing in the morning. When they're on vacation, I do that when they're not killing each other. But nothing is that systematic of course, and a lot of poems come at unexpected times, as long as I've warmed up for them. The writing process you mention is, for me, about this warming up. It involves reading, getting some quiet time, and observing. If I do this every day, the poems will eventually come.
RZ: What are you working on right now?
ZHB: Toward my second collection, I hope.
RZ: The concept of literary journals for Arab writers writing in English is a foreign one. How did you first learn about it, considering that you have resided in the Arab region all your life.
ZHB: When I was a graduate assistant at AUB, a professor of mine gave me the CLMP directory to help him look for potential journals for his poetry. He showed me what to look for in a journal, and explained things like what simultaneous submissions and SASE mean. I ended up ordering my own copy of the directory, going online, and checking out the journals in there that appealed to me, the kind of poetry they publish, and their guidelines. Back then, many didn't have online submission managers yet (I'm happy that one can now submit to almost any journal online). That same professor also directed me to pw.org, which was also a helpful resource.
RZ: How important are literary journals, if at all?
ZHB: Literary journals are vital. They give contemporary writers the chance to showcase their work, and they are where all the good new writing is! I learn a lot about fellow poets from literary magazines, and when I like a poet's work, I usually end up ordering his/her book.
RZ: What advice would you give promising writers?
ZHB: Read Bukowski's poem, "so you wanna be a writer," which starts this way:
"if it doesn't come bursting out of you
in spite of everything,
don't do it."
Read that poem, then: read (read, read), write, revise, submit, learn to accept rejection, and repeat all previous steps, as long as it's "bursting out of you."