Full issue: Vol. 4, Issue 2 Winter 2017
A look inside the issue: Poems and prose by Mohja Kahf, George Abraham, Steven Schreiner, Hazem Fahmy, Lena Zaghmouri, Zaina Alsous, Shadab Zeest Hashmi, Rushda Rafeek, Layla Ghoushey, Lana Habash, Ann Struthers, Zeena Fuleihan, Zoha B. Khan, Tala Abu Rahmeh, Hajer Almosleh, Sarah Mouawad, Farah Ali, Marguerite Bouvard, Jess Rizkallah, Nadim El Choufi, Hedy Habra, Humeirah Ougradar, Eman Hassan, Eman ElShaikh (book review), Dana Dawud, Christine Stoddard, Mishka Mourani, Eman El Shaikh (poem), Marwa Helal, Haya Anis.
Artwork by Tarek Butayhi, Aisha Jamila Daniels, Dana Dawud and Jess Rizkallah.
Interview with Mohja Kahf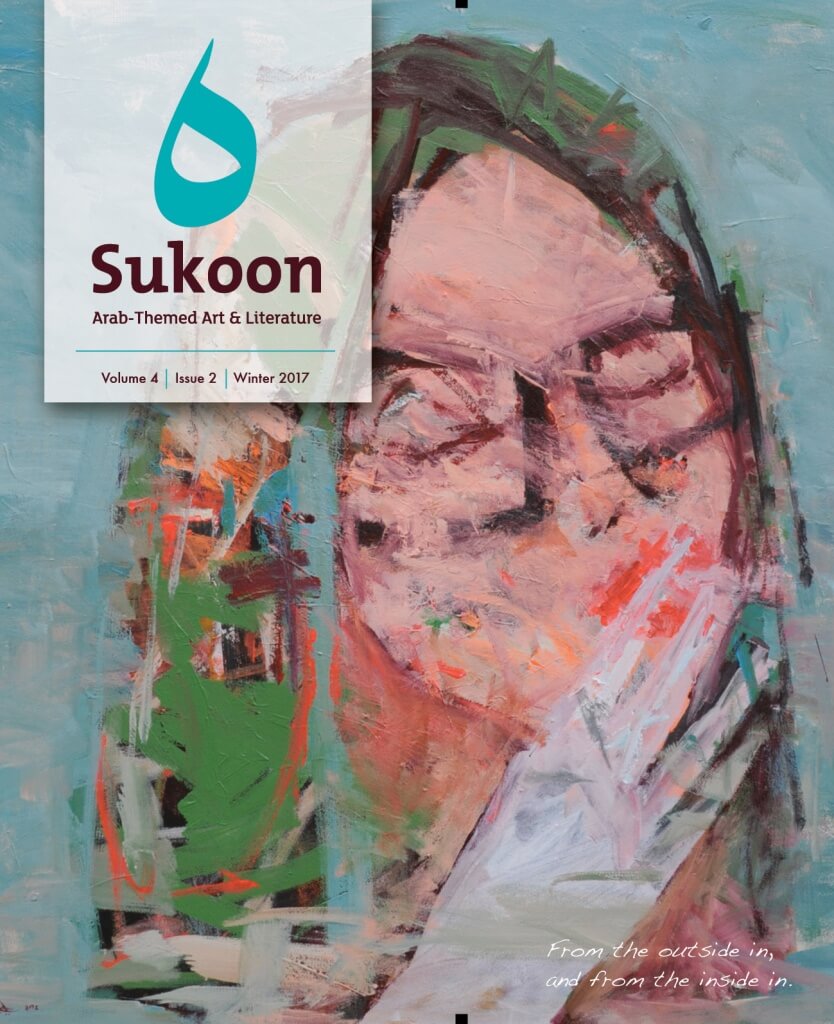 ---
Lena K. Tuffaha, Susan Rich, Momtaza Mehri, Tara Ballard, Eman Hassan, Frank Dullaghan, Zahi Khamis, Layla Goushey,  Rawda Aljawhary, Eman El Shaikh, Jeff Friedman, Marsha Mathews, Philip Metres, Sarah N. Dillard, Siham Karami, Daniel Drennan, Chaun Ballard, Ann Struthers, Marwa Helal, Kim Jensen, Joumana Al-Ramzi, Zahra Hankir, Lukman Clark, Shahé Mankerian, Reem Rashash-Shaaban, Donia Harhoor, Imene Bennani, Kim Peter Kovac, Lina Al-Sharif, Dima Masri, Criag Loomis, Nicole     Olweean, Haya Anis
---
Etel Adnan, Shahd Al Shammari, Jana Aridi, Zeina Azzam, Zeina Hashem Beck, Nora Ali Bakhsh, Chaun Ballard, Imene Bennani, Nada Faris, Marguerite G. Bouvard, Anna Cates, Jeff Friedman, Angue Reed Garner, Kenneth E. Harrison Jr., Kim Jensen, Farheen B. Khan, Omar Khalifa, Darius M. Klein, Pam Laskin, Ali Latife, Lisa Suhair Majaj, Marsha Mathews, Philip Metres, Sahar Mustafah, Rita Tapia Oregui, Steven Schreiner, Mark Tardi, J. Tarwood, Bob Tomolillo, Shebana Coelho
---
Vol. 3, Issue 1 – winter 2015
Frank Dullaghan, Philip Metres, Shebana Coelho, Catherine Gonick, Art Heifetz, Sonia Khader Kashou, Lamis Shalaldeh, Emile Andre, Rana Burqan, Hedy Habra, Chaun Ballard, Gina Williams, David Radavich, Hind Shoufani, Kim Peter Kovac, Lena K. Tuffaha, Marguerite G. Bouvard, Priscilla Wathington, Shaheen Qureshi, Lauren Camp, Ann Struthers, Aziza Quzeiz, Iman Aoun, Ula Jaber Higgins, Zvezdena Rashkovich, EC Buck, Haitham Al Sarraf, Jennifer Zeynab Maccani, Susan P. Blevins, jennifer jazz, Dexter Betantos, Haitham El Attar, Ali Shawa, Nouf Semari
---
Vol. 2, Issue 2 – summer 2014
Hedy Habra, Naomi Shihab Nye, Zeina Hashem Beck, Elmaz Abinader, Neil Flatman, Frank Dullaghan, Tara Ballard, Changmin Yuan, Fern G.Z.Carr, Anna King, Art Heifetz, Gillian Craig, Michele Bombardier, Lana I. Ghannam, Amir Rabiyah, Shurooq Amin, Jesse Millner, Patty Somlo, Janet Testerman, Reem Rashash-Shaaban, Pd Mallamo, Harry Wilson, Arturo Desimone
---
Vol. 2, Issue 1 – winter 2014
Lisa Suhair Majaj, Susan Muaddi Darraj, Claire Zoghb, Zeina Hashem Beck, Celia Bland, Olivia Ayes, Yahia Lababidi, Mayda Aridi Katechi, Hedy Habra, Ali Znaidi,Dianne Kornberg, Chadi Zeinati, Nada Faris, Nadine Sayegh, Jamal H. Iqbal, Sam Hamod, Laura Gilman
---
Vol. 1, Issue 2 – summer 2013
Nathalie Handal, Sean M. Conrey, Hedy Habra, Olivia Ayes, Laurel Harig, Mishka Mourani, Thoraya el Rayyes, Firas Khoury, Steven Schreiner, Frank Dullaghan, Jeff Freidman, Areeb Al-Shathri, Mohamad Ghamlouch, Tamer Elsawy, Zeina Hashem Beck
---
Vol. 1, Issue 1 – winter 2013
Naomi Shihab Nye, Frank Dullaghan, Helen Wing, Steven Schreiner, Zeina Hashem Beck, Farah Chamma, Kenneth E. Harrison Jr., Hind Shoufani, Louay Khraish, Hajer Abdulsalam, Becky Kilsby, Dorian "Paul D" Rogers, Dana Sleiman, Emer Davis, Nicholas Karavatos, The Amazin' Sardine, Marian Haddad, Nour Ali Youssef, Arz Azar, Majid Alyousef, Omran Ali Alowais, Marie Dullaghan
---